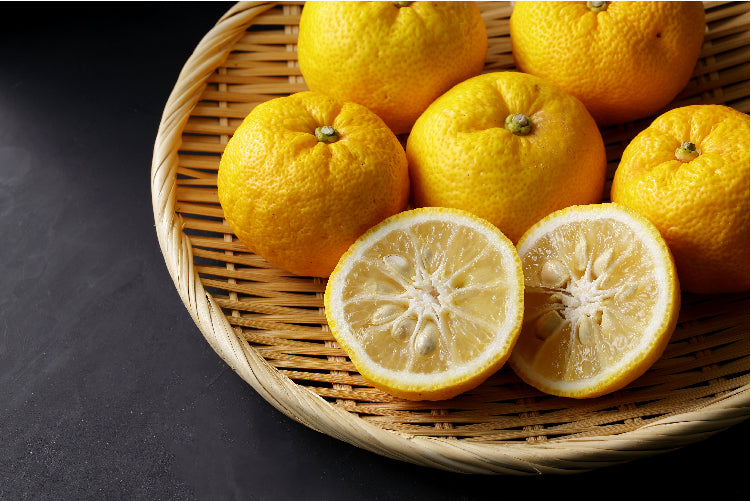 Florida Only: These options can ship to Florida addresses only.
Out of State: These options can ship to all states except the following: AK, AZ, CA, FL, LA, HI or TX.
If an option is not able to be selected, we are currently out of stock for that option. Click "Notify me when available" to get notified as soon as it is back in stock.
While we do offer 3 gallon trees to ship in Florida, unfortunately we aren't able to have them available a lot of the time. We are not offering 3 gallon trees to ship out of state because of shipping challenges.
There's a lot to know about this little fruit! It is a hybrid of mandarin orange and the ichang papea and is believed to have originated in China. While not usually eaten as fresh fruit, it is widely used by the Japanese in cooking in a similar way that other cultures use lemons. It's tart like a grapefruit and aromatic like a lemon with a hint of mandarin flavor! The aromatic rind and juice are used as a regular ingredient in Japan. The yellow fruit resembles a small grapefruit with uneven skin.
Harvest season: Nov-Jan
Cold tolerance:: Cold hardy
Seeds per fruit: 0-6
Mature height: 20+ ft.
Mature height - Semi-dwarf: 12-15 ft.
Mature height - Dwarf: 8-10 ft.
Size when shipped: 26-33"
We ship trees Monday thru Thursday. Order before noon on Thursday and your trees will ship the same week!
We guarantee that you will be satisfied with your tree or we will replace it or refund your money.
PLEASE NOTE: Due to agricultural regulations, we are unable to ship outside of the State of Florida.